18650
Using 18650 Lithium battery cell, equipped with safe and efficient BMS, the bat-
tery pack can produce sufficient and stable power. 4 temperature sensor and 485
communication protocol ensure the high-power load capacity and service life of
the battery pack. The whole battery pack weighs only 8KG. Less than 10 seconds
quick assembly or disassembly, easy to charge anytime, anywhere.
Excellent FOC Intelligent sine wave controller
SURRON independently design and develop, multi-curve compound algorithm pro-
gram, real-time monitoring of throttle turning angle, speed, motor torque and current
intensity, and will continuously analyze and learn your daily riding data to make it
compliance with your riding habits.
High Efficiency center placed Motor
High Performance Brushless Permanent Magnet Synchronous Motor, SURRON design and developed dedicated to Light Bee,
a powerful heart with efficient electronic braking function. IP55 Protection level,
High-grade permanent magnet material withstands high temperatures up to 180 ° C with peak torque of 32 N.m
ORDER
WEIGHT WITHOUT/WITH BATTERY
40kg/48kg
FRONT SUSPENSION TRAVEL
150mm
REAR SUSPENSION/WHEEL TRAVEL
75/177mm
POWER SYSTEM
BLDC mid-drive motor + FOC sine wave controller
MAX TORQUE ON DRIVING WHEEL
220N.m
BATTERY TYPE
18650 battery cell 48V/20Ah
FRAME
aluminum forged frame
FRONT SUSPENSION
single crown inverted fork, rebound adjustable
REAR SUSPENSION
multi-link rear suspension system,compression/rebound adjustable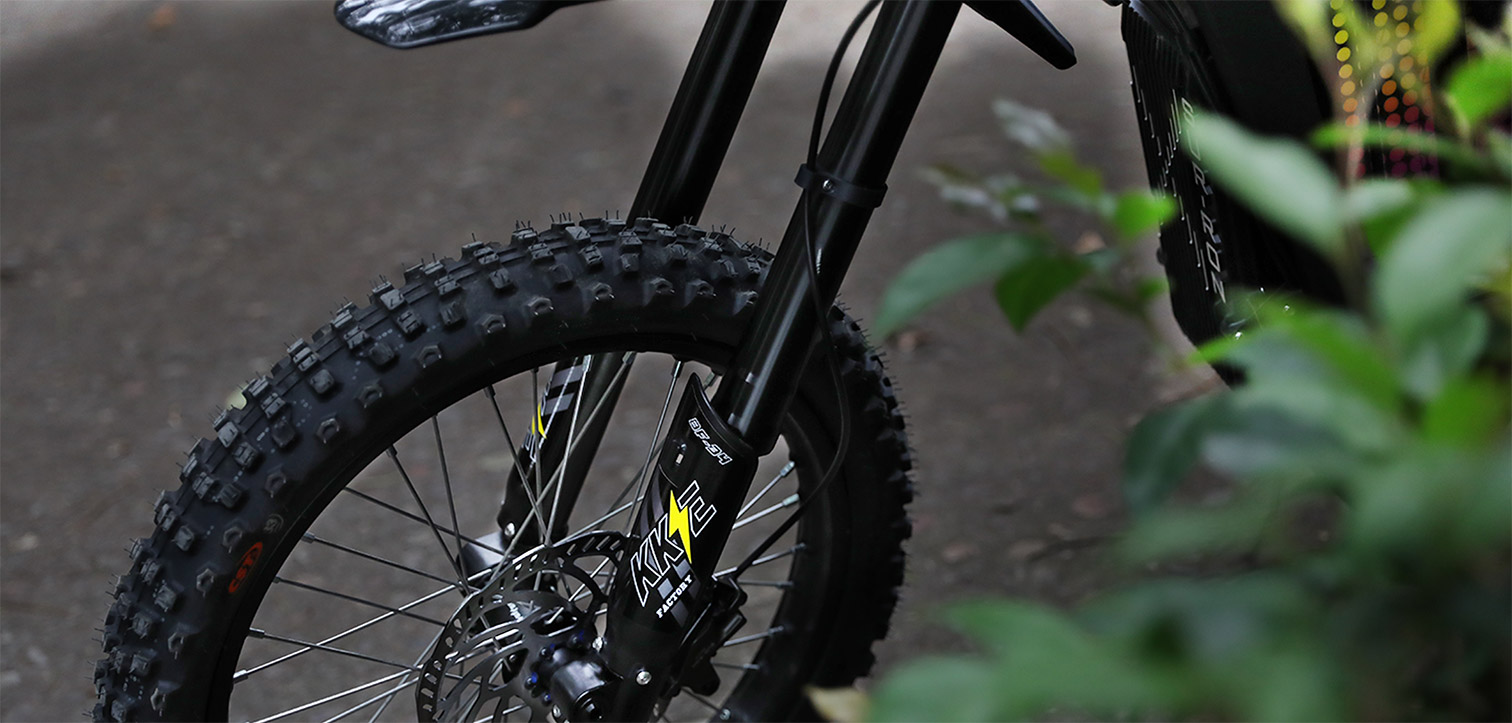 Special designed Single Crown in-
verted fork
Designed only for Light Bee S, 550mm Length, with
150mm effective travel, adjustable rebound setting,
makes the Light Bee S suitable for more road condi-
tions. it makes you comfortable and confidant no
matter you are riding on tarmac or dirt track.
customized lightweight adjustable
rear suspension
multi-link air pack rear suspension with Length of
240mm, 75mm effective travel, adjustable compre-
ssion setting, all terrain adaptable.
7.8 kg Super lightweight frame
6000 ton Aeronautical level aluminum forged,World class G3 curve
design,ull robotic welding, Ensure process consistency
High performance brake system
four piston hydraulic brake, stable and reliable , metal brake pads, high
durability ,with 203mm brake disc come with great brake power
ORDER